Careers Ed. But not as you know it.
BECOME has everything schools need to integrate a best practice program that teachers, students and parents love.
Powerful careers education made easy for schools
A scramble for decisions at the end of high school is too little and too late to prepare students for fulfilled lives and careers. Instead, we need to create the time and space for them to learn and practice how to explore, navigate and design a future that fits them perfectly.
BECOME enables a whole school approach to careers education starting in the critical primary years. It builds awareness of self as well as of the world of work, and provides a safe place in which students learn how to take charge of their future.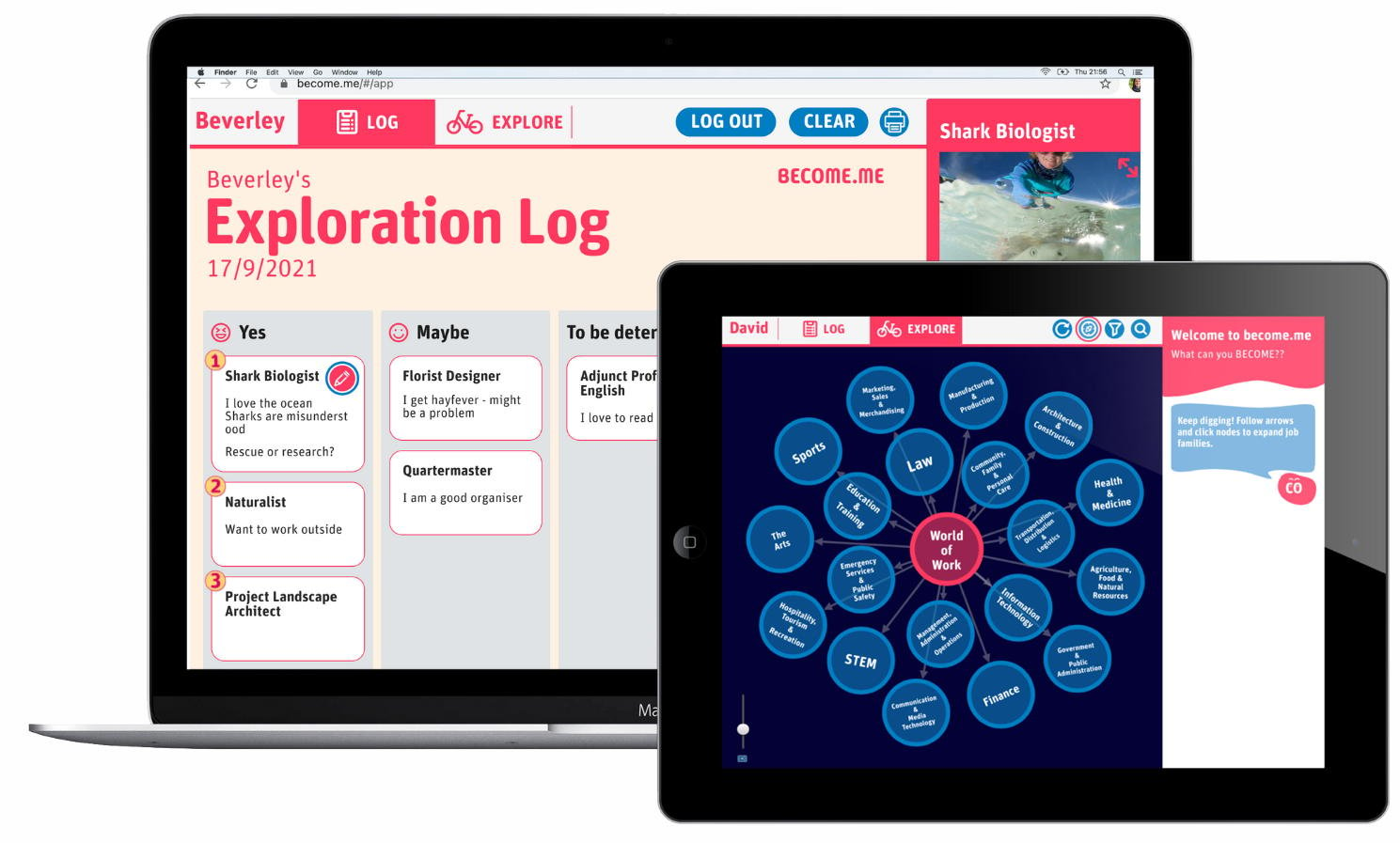 Features of the program

BECOME is a teacher-led program purpose built for years 5 - 10 with ready to go
curriculum-aligned lessons.
Dynamic student web app draws students in and opens their minds to possibilities rather than narrowing them down to a decision

Flexible scope and sequence can be integrated with your planning and programs

Professional learning and planning sessions with our specialists provided


Insights dashboard enables educators to tap into data on students aspirations as they change.
Download Educator info pack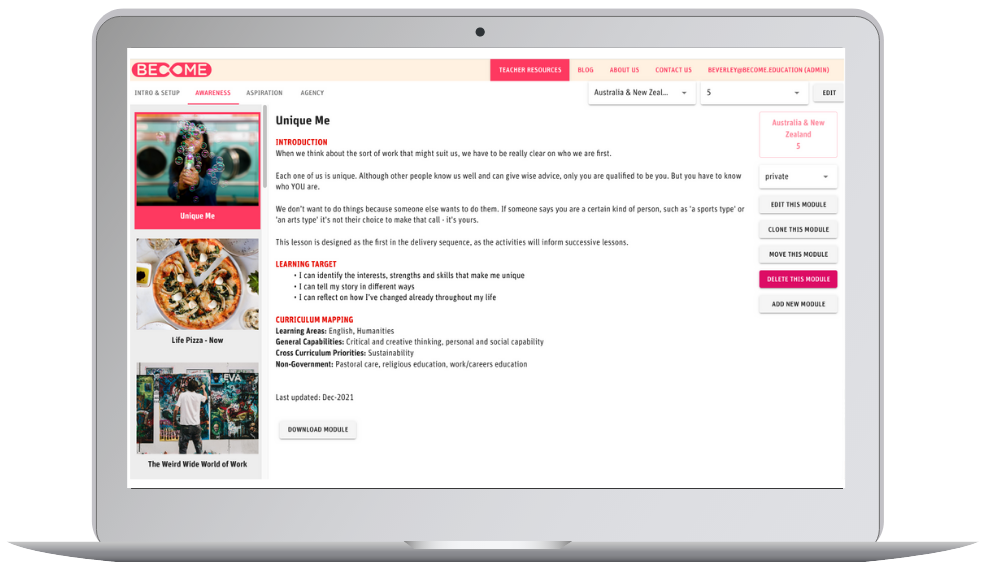 Our primary program is for years 5 & 6, the critical years in which young people's ideas about their identity and where they fit into the world are beginning to get hardwired. BECOME opens up the whole world of possibilities at the same time as exploring what a fully lived life looks like for them.
Students conduct their own structured inquiry into their current ideas for their future. This inquiry is not designed to make them choose a single path but to help them learn and rehearse agency over their own future.
Watch this case study from a community of schools who used BECOME as a focus for their cross-curricular PBL unit.
BECOME makes it easier for secondary schools to reach students before high stakes decisions are due. By the time students face subject or pathways selection, they will have had the chance to explore broadly, think deeply about themselves and try some ideas on for size. Career conversations are transformed as students become confident to explore, navigate and design their path.
We work with schools in all kinds of context. We customise the BECOME roll-out to fit the needs of each school's program and community. You can see some case studies in this webinar.
The BECOME program can be a powerful force when it underpins a whole school approach to student futures from primary all the way up.
Teacher resources are differentiated to keep things fresh at each year level and Scope & Sequence plans are flexibly devised in consultation with the school. Students learn and practise career and life design skills as they repeatedly and actively engage with their future.
Roll out BECOME for each cohort, or plan for multiple dips into BECOME over the years students have with you. You can link the outcomes of BECOME to your school learning goals.

The insights dashboard enables a personalised and proactive approach to student career conversations and gives teachers a real snapshot of where students are at in each cohort, class, or as a whole community.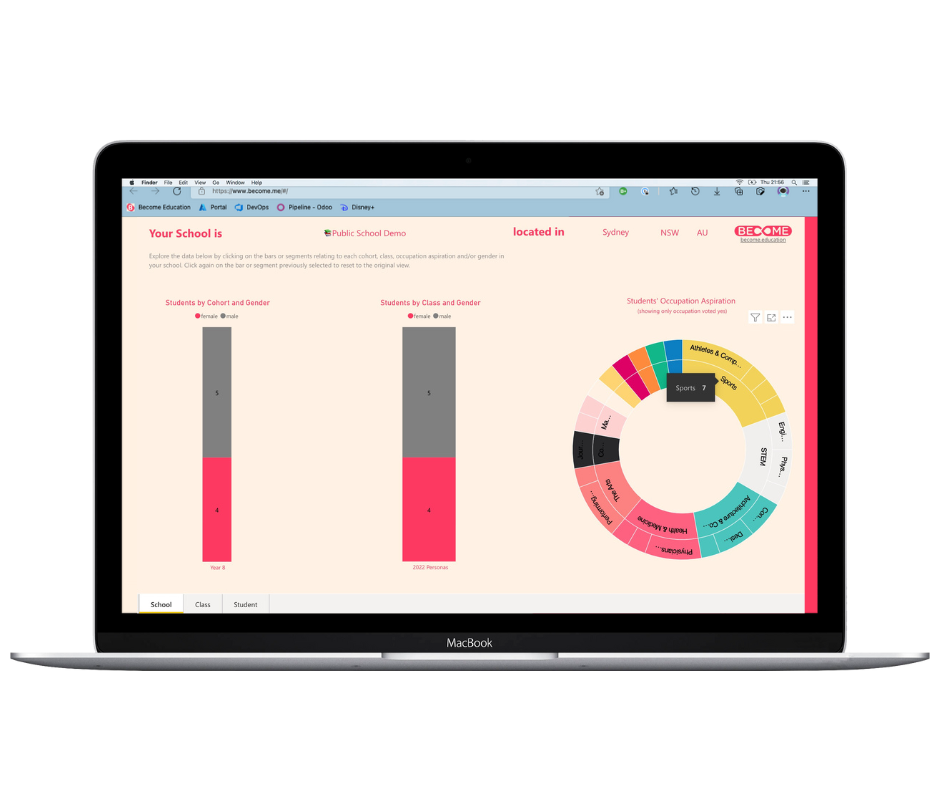 BECOME Insights Dashboard
The evidence is in
BECOME is recognised by the OECD as an example of Global Effective Practice and digital innovation. Effective careers education:
Is about life-long career management skills, not high-stakes decisions at the end of schooling.


Is delivered early, often and integrated across the curriculum.


Has a positive impact on academic engagement and student wellbeing.
Read our effectiveness paper and access valuable resources from the OECD Career Readiness project.
Want BECOME for your school?
We'd love to hear about your situation, to discuss how BECOME will fit into your context and support your learning aims.
Get in touch